Slide
Measurable Impact
Our time-bound Cognitive Behavioral Therapy programs lead to better participant outcomes, including a 50% improvement in depression and anxiety. 1
Slide
Remote-friendly
Get the support that you need as a fully remote therapist. Find balance in your schedule while seeing patients virtually.
Slide
Clinical Support
You'll be equipped with comprehensive training, tools, and ongoing support from skilled clinical supervisors.
Slide
Patient first
We handle administrative duties (marketing, billing, scheduling, etc.), so you can focus on who matters most — your patients.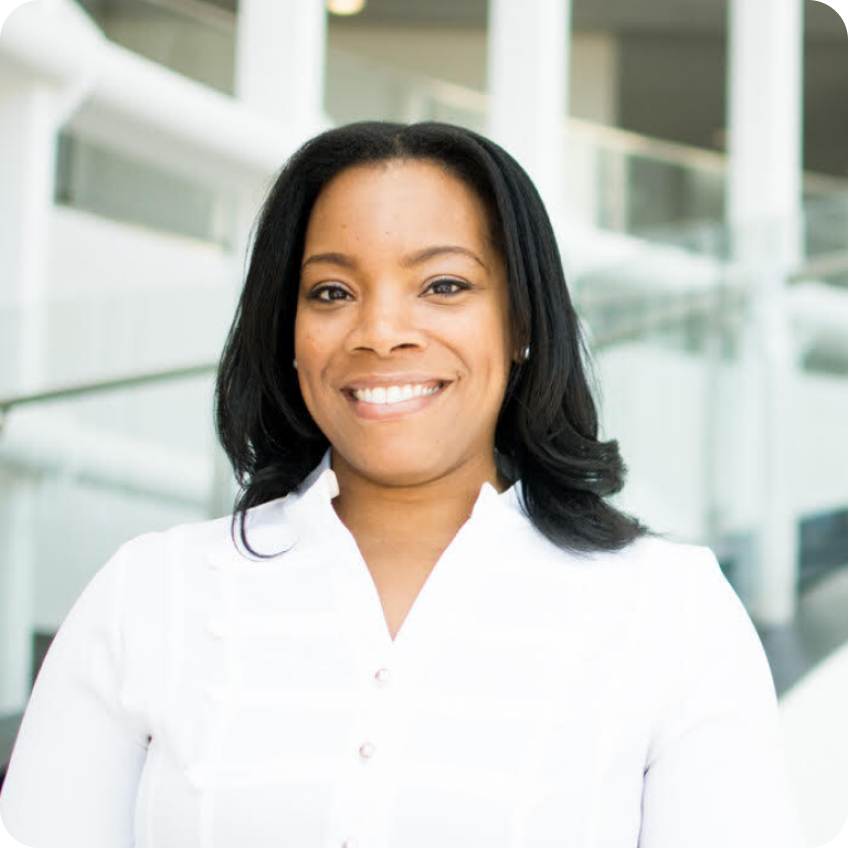 Ebonie W, AbleTo Clinical Supervisor
It's more than a job, it's a calling
As pioneers in telebehavioral health, AbleTo is a mission-driven organization revolutionizing mental health care through virtual, evidence-based programs delivered by skilled providers that help participants navigate through challenges and inspire life-changing results.
Are you looking for a full-time or part-time role?
Licensed Therapist, Full-Time - Remote
As pioneers in the telehealth space, we're a mission-driven organization focused on solving the biggest challenges and revolutionizing mental health care delivery so affordable, high-quality care is accessible to all. As part of the team, you'll have the opportunity to make a lasting impact on the organization while contributing to the future of behavioral health.
You're a compassionate therapist who shares in our ambitious mission to transform behavioral health care. You want to make a difference and spend more time with patients than with paperwork. You appreciate a collaborative environment with a support system of coaches and clinical supervisors. You want to help participants focus on actionable skills and build healthy, life-long habits through structured, evidence-based protocols.
Deliver remote care throughout an 8-week evidence-based program.

Monitor participant progress, provide follow-up communications and care coordination recommendations, and document session notes.

Participate as a member of the care team and assist participants as needed with accessing resources, as well as obtaining consent and authorization forms.

Identify and respond to high-risk participant encounters with elevated safety concerns, following company protocols.

Participate in regularly scheduled meetings with supervisors, monthly team meetings, and Town Halls.

Maintain the highest standards of confidentiality as described in HIPAA Privacy & Security policies, and ensure compliance with annual training requirements.
Onboarding Bonus*:

Receive an onboarding bonus when joining our team.

Remote Opportunity:

Fully remote work helps you prioritize work/life balance.

Patient First:

We handle administrative duties (marketing, billing, scheduling, etc.), so you can focus on your patients.

Professional Development:

Between our free CEUs, expert training and growth, you can thrive with opportunities for career advancement.

Support Resources:

Get support from skilled clinical supervisors, and a 24/7 hotline.

Robust Medical Benefits:

We fund a generous HRA that fully covers most deductibles.

Generous PTO:

Receive corporate holidays, paid time off (PTO), progressive parental leave, two prorated floating holidays, and three mental health days.
Passionate about impacting lives and the future of behavioral care

Ability to maintain a consistent schedule for patients (40 hrs/week from Mon-Fri)

One or more of the following:

Current Licensed Clinical Social Worker (LCSW) or Licensed Professional Counselor (LPC) / Licensed Mental Health Counselors (LMHC) (or state equivalent)

Current Licensed Marriage and Family Therapists (LMFT only in CA)

5+ years of post-Masters provider experience**

Clinical experience conducting psychotherapy utilizing Cognitive Behavioral Therapy (CBT), Dialectical Behavior Therapy (DBT), and other solution-focused approaches
Why You Should Join Our Team:
As a Great Place to Work-Certified™ company, we're committed to building a collaborative and supportive working environment that champions growth and fuels innovation. Want to join us? Take the next step in your career by applying for our Therapist role today.
* Visit ableto.com/remote-therapist-jobs to learn more about the bonus.

**Please note that there are different therapist roles at AbleTo that have varying job responsibilities. Five years' experience is not required for current CA, CT, IA, IN, MA, NM, NY, TN, WA, WV license holders.
The salary range is $55,000 to $95,000. Pay is based on several factors including but not limited to education, work experience, certifications, etc. In addition to your salary, AbleTo offers benefits such as a comprehensive benefits package, incentive and recognition programs, and 401k contribution (all benefits are subject to eligibility requirements).
#LI-Remote
PT:4324406003
Follow AbleTo on
LinkedIn
,
Twitter
, and
Instagram
!
Please note this job description is not designed to cover or contain a comprehensive listing of activities, duties or responsibilities that are required of the employee for this job. Duties, responsibilities, and activities may change at any time with or without notice.
AbleTo is an equal opportunity employer. All qualified applicants will receive consideration for employment without regard to race, color, religion, sex, sexual orientation, gender identity, national origin, disability or veteran status. AbleTo is an E-Verify company.
For government reporting purposes, we ask candidates to respond to the below self-identification survey. Completion of the form is entirely voluntary. Whatever your decision, it will not be considered in the hiring process or thereafter. Any information that you do provide will be recorded and maintained in a confidential file. As set forth in this company's Equal Employment Opportunity policy, we do not discriminate on the basis of any protected group status under any applicable law.
If you believe you belong to any of the categories of protected veterans listed below, please indicate by making the appropriate selection. As a government contractor subject to the Vietnam Era Veterans Readjustment Assistance Act (VEVRAA), we request this information in order to measure the effectiveness of the outreach and positive recruitment efforts we undertake pursuant to VEVRAA.
We are a federal contractor or subcontractor required by law to provide equal employment opportunity to qualified people with disabilities. We are also required to measure our progress toward having at least 7% of our workforce be individuals with disabilities. To do this, we must ask applicants and employees if they have a disability or have ever had a disability. Because a person may become disabled at any time, we ask all of our employees to update their information at least every five years.
Identifying yourself as an individual with a disability is voluntary, and we hope that you will choose to do so. Your answer will be maintained confidentially and not be seen by selecting officials or anyone else involved in making personnel decisions. Completing the form will not negatively impact you in any way, regardless of whether you have self-identified in the past. For more information about this form or the equal employment obligations of federal contractors under Section 503 of the Rehabilitation Act, visit the U.S. Department of Labor's Office of Federal Contract Compliance Programs (OFCCP) website at www.dol.gov/ofccp.
Are you Hispanic/Latino?
Race & Ethnicity Definitions

What is your gender?
Section 503 of the Rehabilitation Act of 1973, as amended. For more information about this form or the equal employment obligations of Federal contractors, visit the U.S. Department of Labor's Office of Federal Contract Compliance Programs (OFCCP) website at www.dol.gov/ofccp.
PUBLIC BURDEN STATEMENT: According to the Paperwork Reduction Act of 1995 no persons are required to respond to a collection of information unless such collection displays a valid OMB control number. This survey should take about 5 minutes to complete.
1Internal survey of 43,400 graduates of Therapy360 that resulted in 98% program satisfaction. Nov 2019-Oct 2021.
*$1,000 onboarding bonus for all new therapists requires active AbleTo employment 90 day post start date and completion of credentialing, training and 10+ weekly hours posted available hours for scheduling by dates outlined in the employment contract. $3,000 onboarding bonus for new full-time therapists licensed and residing in CA requires active AbleTo employment 90 days post start date. Therapists are eligible for the onboarding bonus upon graduation from AbleTo Academy. Graduation occurs when a Therapist demonstrates completion of all required onboarding tasks and training and competency in clinical service delivery. Therapists may participate in individual and group sessions with Onboarding Specialists and Academy Program Advisors throughout to support and ensure goal attainment and readiness for graduation. An onboarding bonus will be added to the pay period following graduation and will be inclusive of compensation for any scheduled or ad hoc communications (written, verbal, or virtual) with AbleTo staff during AbleTo Academy. Required training and participant treatment-related activities completed during AbleTo Academy (e.g., Initial Consultations, sessions, no-shows, etc.) will be compensated as reflected elsewhere in this contract. The Therapist recognizes and agrees that the requirements for AbleTo Academy graduation may be changed or modified by AbleTo at any time and at AbleTo's sole discretion. Please speak with a recruiter for more details.
**Please note that there are different therapist roles at AbleTo that have varying job responsibilities. Five years' experience is not required for current CA, CT, MA, NM, NY, TN, WA, WV license holders.